Hi! I had no time to post anything in the last few days, too much work at the university. Last Sunday we went to 1500m2 for a yard sale "Need for street". It was interesting, inspiring and I wish there were more sales like that.
Here
you can see the photos from the event. There was also a " Fancy Me Bijoux" stand with their jewelery and I instantly fell in love with it! I have bought only one bracelet, but I'm sure I'll buy more of them. :) Why am I writing about this company? Because their jewelery is beautiful, handmade, cheap and...polish. :) I want to support my home market. ;) So here's my Fancy Me bracelet!
Cześć! W ciągu ostatnich dni nie miałam czasu nic napisać, za dużo roboty na studiach. W niedzielę pojechaliśmy do 1500m2 na sale "Need for street". Było interesująco i inspirująco, szkoda, że takie imprezy rzadko są organizowane. Tutaj możecie obejrzeć zdjęcia. Było tam również stoisko Fancy Me Bijoux z ich piękną biżuterią, w której od razu się zakochałam. Udało mi się kupić tylko jedną bransoletkę, ale na pewno zakupię jeszcze kilka. :) A czemu piszę o tej firmie? Bo ich biżuteria jest piękna, ręcznie robiona, tania i...polska. :) Staram się wspierać swój krajowy rynek. ;) Oto moja bransoletka od Fancy Me!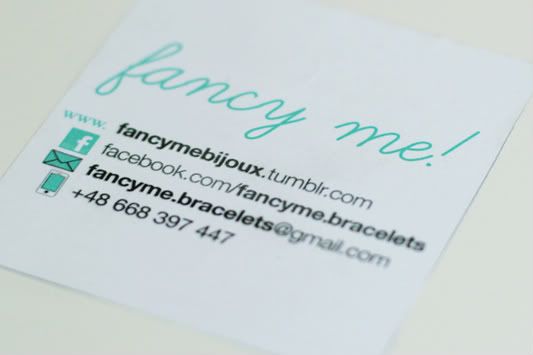 During the weekend I had my hair coloured in pink. Do you like it? I did and I'm sure I'll do it again. :)
W czasie weekendu pofarbowałam sobie bibułą włosy na różowo. Podoba się wam? Mi bardzo i na pewno jeszcze to powtórzę. :)